There's nothing SNG
doesn't make better
FISH
STEAK
CHICKEN
HOT DOGS
WE BRING HEAT
BBQ SAUCE $1399
Gluten Free
Grill Ready
Fast Shipping
Made in USA
In stock
SNG IS A DELICIOUS
AND VERSATILE
CONDIMENT
that can be served with a wide range of foods to enhance their flavor and texture. Whether you are grilling, smoking, or simply looking for a dip for your appetizers, Our sauce is an excellent addition to any meal.
FAQ'S
Our BBQ is unique because we slow-cook, wood-smoke, and season our meats in-house, resulting in tender, flavorful dishes.
You can enjoy our BBQ at online for delivery. Our sauces and rubs will soon be available in select stores.
Yes, we provide catering for various events. Contact us through our contact page or business social media page. Open for corporate and commercial events.
We specialize in California Tri Tip, Texas-style brisket, Memphis-style ribs, and Kansas City-style pulled pork, offering a diverse BBQ experience.
Try classic sides like mac and cheese, coleslaw, and cornbread with our BBQ. For beverages, consider craft beers, iced tea, or our homemade BBQ sauce. Our staff can provide personalized suggestions for a great meal.
No matter what you use
our barbecue sauce for
It will be sure to tantalize your taste buds. No need to run to your local grocery store or look for BBQ near me, when you can allow us to ship directly to your door.
Tony B.
03/24/23
"Yo, Sniffin Griffins BBQ sauce is fire! I threw it on some burgers, and it was straight-up lit, fam."
Keepin' It Original BBQ Sauce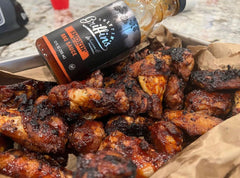 Jenny R.
05/06/2023
"Man, this sauce is the real deal. I slapped it on some chicken, and it turned my backyard BBQ into a flavor party!"
Sauce Lover's Trio Pack
Mike W.
02/27/2023
I used it on a steak, and it was hella tasty. Trust, it's legit."
Original Poultry & Seafood BBQ Rub - 22oz
Sarah P.
06/24/2023
"I'm telling ya, this Sniffin Griffins rub sauce is a game-changer. I put it on some brisket, and it was hittin' different."
All Purpose Bite Through BBQ Rub - 24oz
Tom R.
07/06/2023
I put it on ribs, and it was mad good. And the rub? Just perfect."
Smokin' Me Out BBQ Sauce
Emily B.
07/07/2023
I'm obsessed with Sniffin Griffins BBQ sauce. I slathered it on chicken wings, and it was next-level flavor.
All Purpose Bite Through BBQ Rub - 24oz
Diondre S.
08/09/2023
My wifes favorite. It's better on chicken, I prefer more of a smokiness on my brisket and pulled pork. Not really as good to me. But I like the hustle
Keepin' It Original BBQ Sauce
David M.
07/24/2023
BBQ sauce is that heat! It took my burgers to flavor town, and the rub was on point."
Sauce Lover's Trio Pack
Tina L.
07/06/2023
It levels up our BBQ chicken, and the rub? It's got that special something. So good!"
Season'd Up! Rub Duo XL Pack
Jason H.
05/27/2023
My secret weapon for dope brisket. The rub brings the vibes, and the sauce?
Keepin' It Original BBQ Sauce
Melissa G.
09/20/2023
I put it on pulled pork, and the rub's spices gave it that extra kick. You gotta try it, frfr."
Smokin' Me Out BBQ Sauce
Keisha M.
09/06/2023
This bbq rub had my chicken ready to mount up.
All Purpose Bite Through BBQ Rub - 24oz